Insights into Innovation (and why this "innovator" really just wants a warm brownie and a nap)
Rebecca Millerjohn, Madison Public Library, Wisconsin
Wednesday, September 15

th

, 10:00 am-11:00 am
In 2020, Rebecca Millerjohn was named a
Library Journal
Mover & Shaker for the innovations she championed with Madison Public Library's learning and assessment practices. She has had many wonderful people in the last year jovially ask her, "How does it feel?!" If she were being honest, she would answer
uncomfortable
. She always assumed that innovating was a born trait, that some people just naturally generate brilliant new ideas and *poof* make them come true. Yet, she has been at the head of several successful innovations with the Bubbler at Madison Public Library over the last 6 years, and every time there is no *poof*. They generally start with trepidation, a lot of sighing, and even when there is giddiness about the possibilities and potential, there is also anxiety and the sobering truth that stepping out into the unknown is most likely going to take a lot of work. Yet when the outcomes are worthwhile - the chance to co-build opportunities with your community to enhance learning - we need to be able to say yes. We need to be able to acknowledge that discomfort while continuing to persist in exploring, adapting and transforming. This is a talk for all of the reluctant innovators out there. And when it's over, we can all go eat a warm brownie and take a nap, because we deserve it.
Presenter: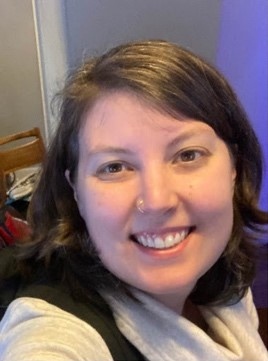 Rebecca Millerjohn
is the youth services librarian with the Bubbler at Madison Public Library. Before entering the library world, she was a middle and high school classroom teacher in Houston, Texas and Chicago, Illinois. A 2020
Library Journal
Mover & Shaker, her library work focuses on hands-on exploratory learning, educator support, and strategic partnerships with MPL's Bubbler program. As the Bubbler's project manager for their Summer of Making Internship and Making Spaces initiatives, she loves sock monsters, power tools, paper circuits, and when kids get little scrunched faces that shows they are THINKING. Her current projects include community engagement with Madison educational partners, the creation of Madison Public Library's Impact blog, and research into making & learning assessments and practices. When she grows up, she would like to go back to school to become a landscape architect or a furniture restorer. ​​
For more information and to register, click
HERE.